Testimonials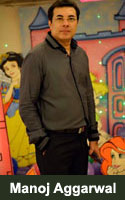 Dear Manishji,
Our Heart goes out to you & your Entire Team at Violin Events for giving us a Dream Wedding on the 16th & 17th Nov 2015 at Ananta Spa & Resorts Udaipur .
Manishji, you have done way beyond our expectations & desires too. We all really don't have words to express our gratitude & thanks. All of us at Ghai & Aggarwal family are still in a state of awe & the Grand & heavenly visuals are not letting us come out into the real world. That's the kind of wedding you have given us.
We have heard nothing but praises from all the guests who attended the wedding. Several guests told us it was the most beautiful they had attended. You have set a new standard altogether.
Thank you doesn't seem enough for bringing to reality the dreams for a magical wedding.. It was beyond words. Special Thanks & Blessings to Ms. Sonal & Mr. Vikas, Who was ever smiling & 24 hours on toes with all their help & support & ever ready to meet with our last moment, demands too.

Warm Regards,
Ghai & Aggarwal Family
21st November, 2015
Dear Manish.
I write this letter to Thank you and your entire team for arranging the Grand Wedding of my son Nikhil on the 24th, 25th and 26th of October 2015 at the Ananta Spa and Resorts, Udaipur.
The credit for all the praises that I have got since then from all my Guests for the wonderful wedding, goes to you and your entire team, who have worked relentlessly, and taken great care of all the needs of my guests, and making it a Grand Wedding , which it surely was!.
Nothing could have been more beautiful than what you created for each and every event.
I had tears of joy in my eyes on the last day when I hugged you and thanked you for what you had done, and I could see that you too had tears in your eyes for seeing how beautiful the entire event had turned out to be.
It was a dream Wedding for my children who just could not stop thanking me for the beautiful wedding that I had given them, and i cannot be more appreciative of you and your entire team for what you have done for me.
You have proved to be better than the trust i had in you for conducting the wedding events.
You and your team are undoubtedly the best.
Thank you once again from the bottom of my heart.
GOD BLESS
Warm Regards;
Prakash Kishnani
Mumbai 18th November, 2015.